So, you'd like to learn about investing in opal? Well, For years people have been investing in alloys and metals such as gold and silver. So, why invest in opal? Because unlike silver and gold, the value of opal does not depend on stocks and fluctuate in such a manner. Opal is a rare commodity that cannot be industrialised due to the nature of how it is sourced. Australian opal is highly prized, rare and the best quality opal in the world. Opal is considered a safe investment because the material has never dipped in value and has only ever increased due to the demand of the world market and jewellery production.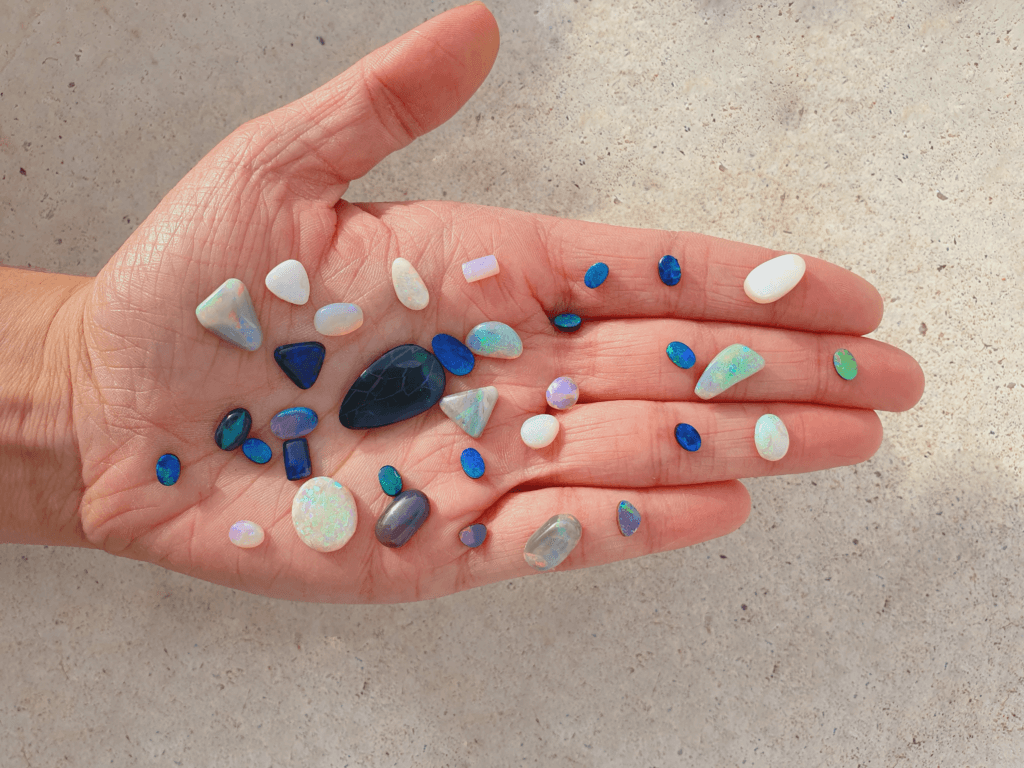 Gemstones prices in general are not correlated to share and property prices so they should be able to reduce the volatility of returns in a superannuation fund and are a low risk, high reward investment.
This is not to say that if you buy a piece of opal jewellery and wear it that it is an investment. There are stringent tax rules regarding this- they must be kept in storage and be insured like an investment not personal jewellery.
Opals are a great investment, because they're only getting rarer, and they can diversify your portfolio providing a safe and real investment you can touch.
At the Good Opal co. All opals priced over $500 are considered an investment and come with a certificate of authenticity and grading. Below, we've listed a few things you should consider before investing in opal.
Why Black Opal is a good investment
The most valuable Black opals, are opals that come from the Lightning Ridge area and have a signature fiery red colour, is widely considered by most financial advisors to be the best opal investment. There are a few reasons for this. One reason for this is because these are incredibly rare varieties of opals. This is also because it has an incredible rare pattern, which is highly desirable. Boulder opals are also gemstones that are highly sought after by investors. These are opals that have distinct and spectacular colours that make them so desirable. They are affordable and can be collected by anyone.


A bit of background
When you purchase opals for investments, they should always come with a certificate of authenticity. Because these gems are rare, they are excellent items for a long-term investment. These are also stunning gemstones that you will want to admire frequently. Gemstones like these are not just for your portfolio but something that you pass along to the next generations of your family. As the regulations of the Lightning Ridge mining get stricter, there is a lot of uncertainty when it comes to mining and production of these gemstones. What this creates is a market where there is a high demand for these opals with a decreased supply.
This is what creates value in your portfolio. Black opals and opals in general are also becoming increasingly popular as well. There's been a notable increase in the number of artists who have been creating opal jewellery as well as Opal engagement rings. This was previously unheard of due to rumours spread by diamond traders that opals were bad luck. However, these 'concerns' seem to be a thing of the past. Interest around opal and opal mining has also become increasingly popular in the media with trusted authoritative networks like BBC and ABC creating features like 'Opal Fever' and 'Outback Opal Hunters, which has also seen in increase in opal prices.
The Opal industry has seen this firsthand, particularly with the closure of Mintabie and Lambina mines, whereby the value of opals from these areas has skyrocketed due to the scarcity of the gems from the regions now.
Investing in Opal Doublets
Whilst solids opals are the best investment, the popularity of doublets has increased overtime. Why? There are several reasons. One is the increased cost of opal mining has seen solid opal prices increase across the board. Along with the closure of popular mines like Lambina and Mintabie, already popular lightning ridge and Coober Pedy material has skyrocketed in value.
Another reason is that whilst doublets are not as rare as solid opals, they provide people with an affordable source of Australian opal that can look just as good as solid opal at a fraction of the cost. The demand for doublets as seen prices rises even into the thousands for premium material.
Opal Investment Pro Tips
If you're thinking about investing in opals, we highly recommend learning about opal structure, formation and valuing first.
This Blog: https://www.goodopalco.com/2021/05/22/how-to-value-opal/ has a lot of the important information you'll need to know as a starting point. From a snapshot point of view, just remember; just because an opal is black or expensive for that matter, it doesn't necessarily mean it's valuable. That's why understanding how to value opal is important in determining investment suitability.
Body tone plays a big role in base value but colouring, brilliance, patterns are also very important.
Anything that falls between N1 and N4 is considered black opal. Black opals are the rarest gemstone in the world so investing in black opal is always going to be a sound option as the value is only set to climb.
N5 and N6 are considered dark opals, while N7 and N8 are light opals. These opals can still fetch incredibly high prices.
White opal has the body tone of N9. And is renowned as being the opal which holds the least value. However, it's not to be discounted, as Australian opal is still the most valued opal in the world. We recommend investing in white opal if you're just dipping your toes into the opal market.
Fossil opals also hold immense value because they are both incredibly rare and historically and scientifically valuable. The Virgin Rainbow (https://www.forbes.com/sites/trevornace/2016/07/25/virgin-rainbow-is-the-worlds-rarest-opal/) Belemnite fossil opal sold for a whopping 1 million after all.
When buying opal, the source of the material is important. You don't want to be spending thousands without researching who you are buying from. This has particularly become a problem with online purchasing. If you're planning on spending in the 10's of thousands on an opal investment we highly recommend seeing the opal in person first.
If you're buying online, always try to buy from an Australian seller, this will not only increase the chances of a safe purchase but also the best price. authenticity and truthfulness of the purchase. Any purchase made in this price range should be purchased directly from a miner or from a seller or cutter with a GIA Certification, to confirm the validity of their valuation of the opal.
When considering opals for investment, it's generally a good idea to avoid opals with inclusions or a poor cut. Oval or circle cut high domed cabochon opals are the most desirable. Whereas flat cut opals or any opal with imperfections such as sand, potch lines, crazing and cracks are a big no no!
However, fossil opals are rarely perfect but can have beautiful colour, so if you're thinking of investing in Fossil opal, we highly recommend getting it valued by a third party. In Lightning Ridge in particular, there is a valuing committee that does this. So, if the opal already has a formal valuation from the committee a second valuation won't be necessary.
This has mixed opinions, but after speaking directly with 3 renowned opal carvers in lightning ridge, we've come to the conclusion that opal carvings are a risky investment. Why? Because opal holds its value because of its rarity and yes, in theory a one of a kind unique carving is rare.
However, often, when you buy an opal carving, you are paying for the workmanship or 'art' and not the opal's qualities. This is where the risk comes in because art is something that can be disputed making the value indeterminable. If you did want to invest in an opal carving, we highly recommend you do the following:
A certificate of authenticity signed by the artist.

Buy from a well-known/respected artist.

Get a second opinion from an opal specialist on the value of the carving.

Black Opal carvings are highly respected, so we suggest investing in a black opal carving if your intent on adding a carving to your portfolio/collection.